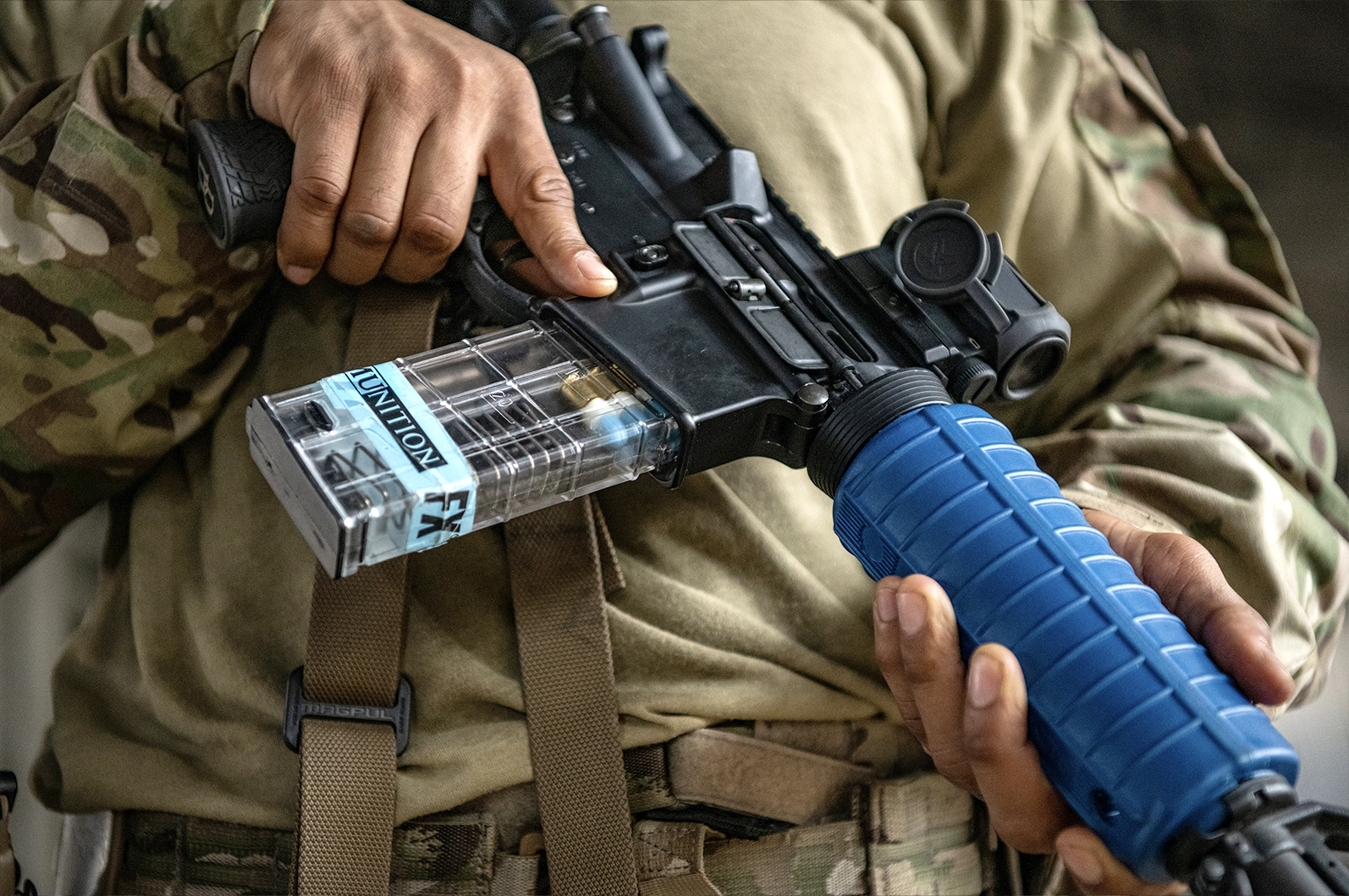 SAFELY TRAIN WITH YOUR OWN WEAPON
The Simunition® conversion kit, conversion bolt, bolt carrier assembly and safety-ring insert allow the FX® Marking Cartridges and the SecuriBlank® Cartridges to be fired safely from the user's own service weapon. These easy-to-install kits help preclude the inadvertent chambering of live ammunition and ensure the proper operation and cycling of the weapons. They are an integral part of the FX® training system along with the FX® marking cartridges and the FX® protective equipment.

Simunition Conversion Kits are available for most every type of firearm from the most poular manufacturers. Unlike other conversion kits on the market, Simunition Conversion kits allow you to fire both FX® Marking/Non-marking and SecuriBlank® ammunition.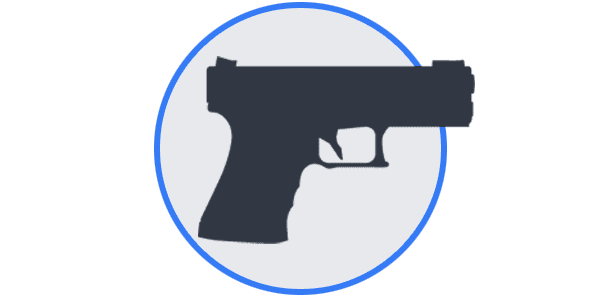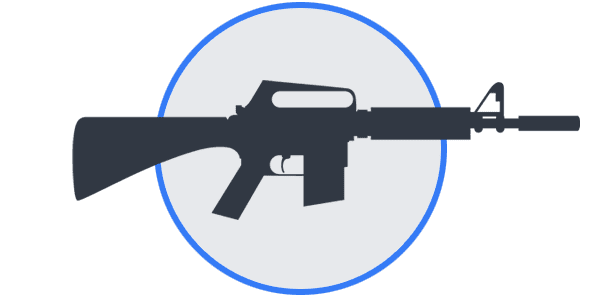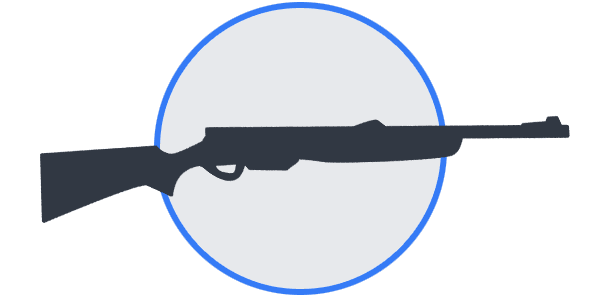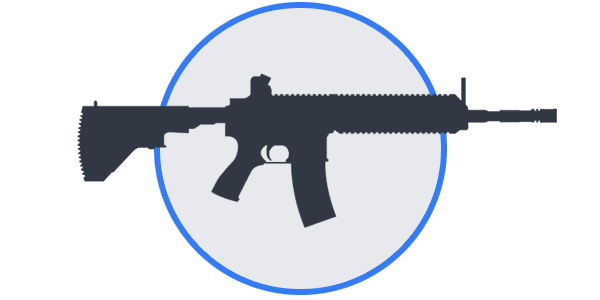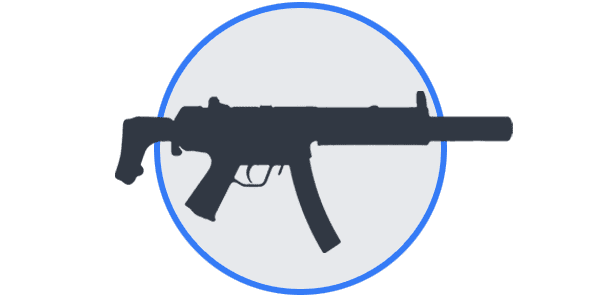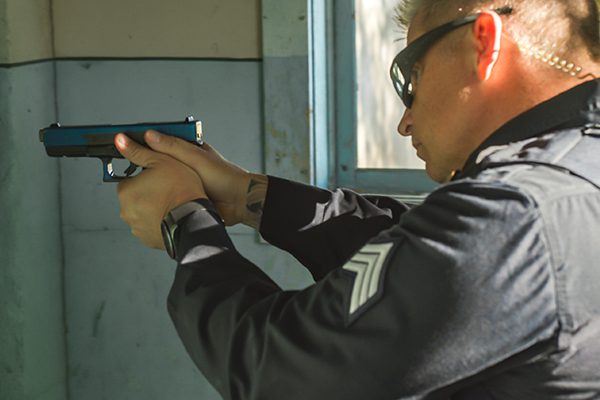 REAL WORLD FIREARM TRAINING
Advantages
Easy-to-install
Designed to fit user's own service weapons
Designed to preclude the inadvertent chambering of duty ammunition
Conversion barrels made of high-quality steel
Tool-free conversion of most weapons
Weapons can be converted back to duty status
Near-normal weapon recoil
Available for most popular weapons
Applications
Basic firearms familiarisation and skill development
Tactical scenarios
Individual and team situations
Counter-terrorism
Close-quarter battle (CQB)
Urban fighting (MOUT/FIBUA)
VIP Protection
HK416 5.56mm Conversion BOLT
View and download brochure for the Conversion Bolt for HK416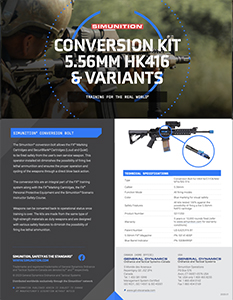 M4/M16 9mm Upper Receiver 
View and download brochure for the M4/M16 Upper Receiver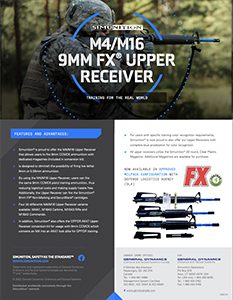 Download our Conversion Kit catalog for imformation on all weapon kits
Conversion Kits for FX® Marking Cartridges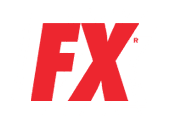 Conversion kits used with FX® Marking Cartridges offer a realistic training experience by allowing the user to use a converted duty weapon and fire a non-lethal FX® Marking Cartridge directly at a human target without inflicting serious injury.
FX® Marking Cartridges are available in 5.56mm and 9mm and will function with a wide variety of firearms including; pistols, submachine guns, rifles, carbines, shotguns, revolvers and machine guns.
Download the Simunition® Product Catalog for a complete listing. 
Conversion Kits for SecuriBlank® Cartridges

SecuriBlank® sets a new standard as the world's safest blank cartridge. The Securiblank® cartridge, combined with the Simunition Conversion Kits, create a safer and more realistic training environment. The SecuriBlank® cartridge is available in 5.56mm and 9mm and will function with the pistol, rifle, and carbine conversion kits.
Download the Simunition® Product Catalog for a complete listing.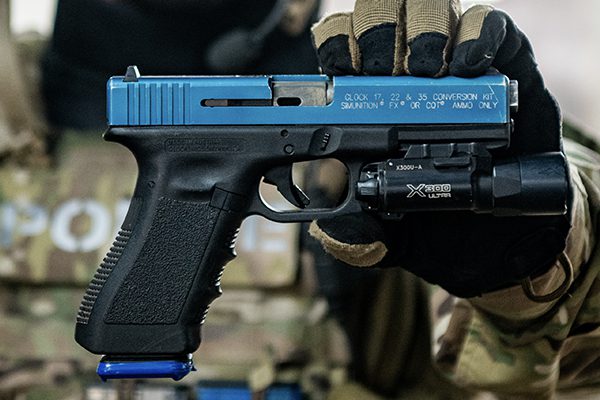 Ready to train with the best?