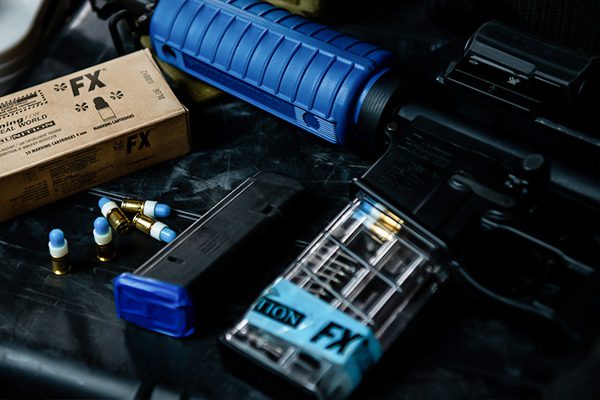 Warranty Conditions on Simunition® Products
Since the early 1990s, GD-OTS Canada has been the pioneer and world leader in providing military and law enforcement users with the most realistic and safest force on force short range training system. Over the years we have delivered over 250 million FX® marking rounds and hundreds of thousands of Simunition® weapon conversion kits and associated protective equipment to satisfied customers throughout the world. Our Simunition® training system has been approved and introduced time over time into major military organizations such as the Canadian Forces, the US Army, the USMC, the UK MoD, the Royal Netherlands Army and many other military organizations. As well, it has been qualified and introduced as an essential training component into Federal and local law enforcement agencies throughout the world.
The Simunition training system is comprised of the FX marking munitions, the Simunition weapon conversion kits and the Simunition® personal protective equipment (PPE). GD-OTS Canada is the only manufacturer to have fully designed and qualified for safety and reliability all three essential components of the Simunition FX force on force training system. This systems approach ensures a total safety solution to the user, thus reducing his training liability.
Our engineers, in cooperation with various weapon manufacturers across the world, have designed and manufactured high quality Simunition weapon conversion kits which are 100% adapted to the user's service weapons. These conversion kits have all been designed and qualified to ensure optimal safe and reliable performance for the exclusive use with our Simunition® FX® marking rounds. As well, all Simunition personal protective equipment (PPE) have undergone stringent terminal ballistic safety tests with our FX marking rounds to ensure full safety compatibility.
Simunition FX marking cartridges, Simunition conversion kits and Simunition FX 9000 Series protective equipment are exclusively designed and intended to be used together as the Simunition® Training System. General Dynamics Ordnance and Tactical Systems – Simunition Operations, Inc. cannot guarantee the performance or safety of using the Simunition Training System with any non-Simunition products. Use of any non-Simunition products with the Simunition Training System will void the manufacturer's warranty and General Dynamics Ordnance and Tactical Systems – Simunition Operations, Inc., its employees, agents, officers and affiliates will not be responsible for any personal injury or property damage that may result from such use.
NOTE: Simunition conversion kits are only manufactured and distributed by Simunition® and our Authorized Distributors Worldwide. No other company has been authorized to supply or provide replacement Simunition® conversion kits to our customers.