5.56mm and 9mm
FX® TRAINING SYSTEM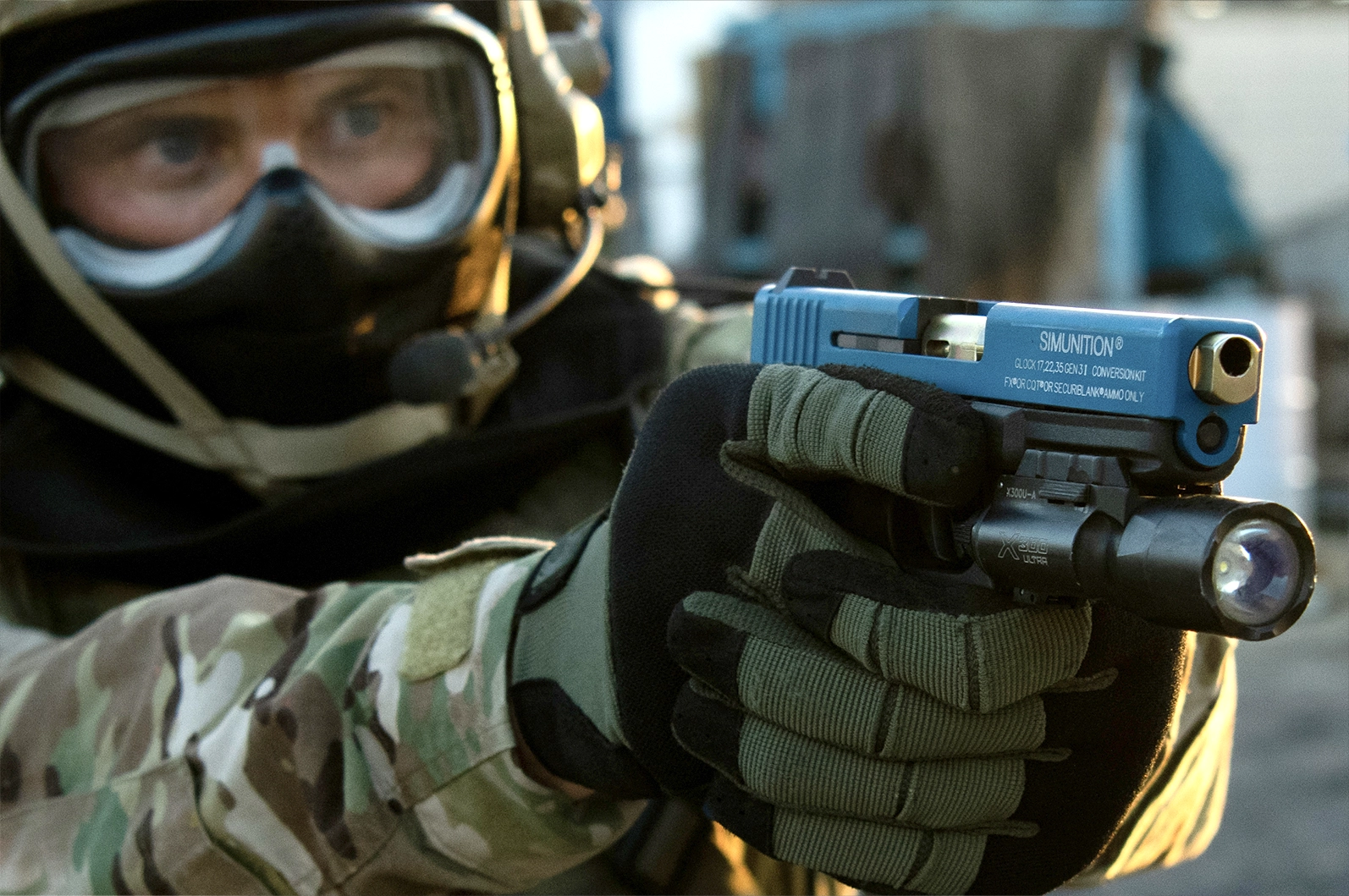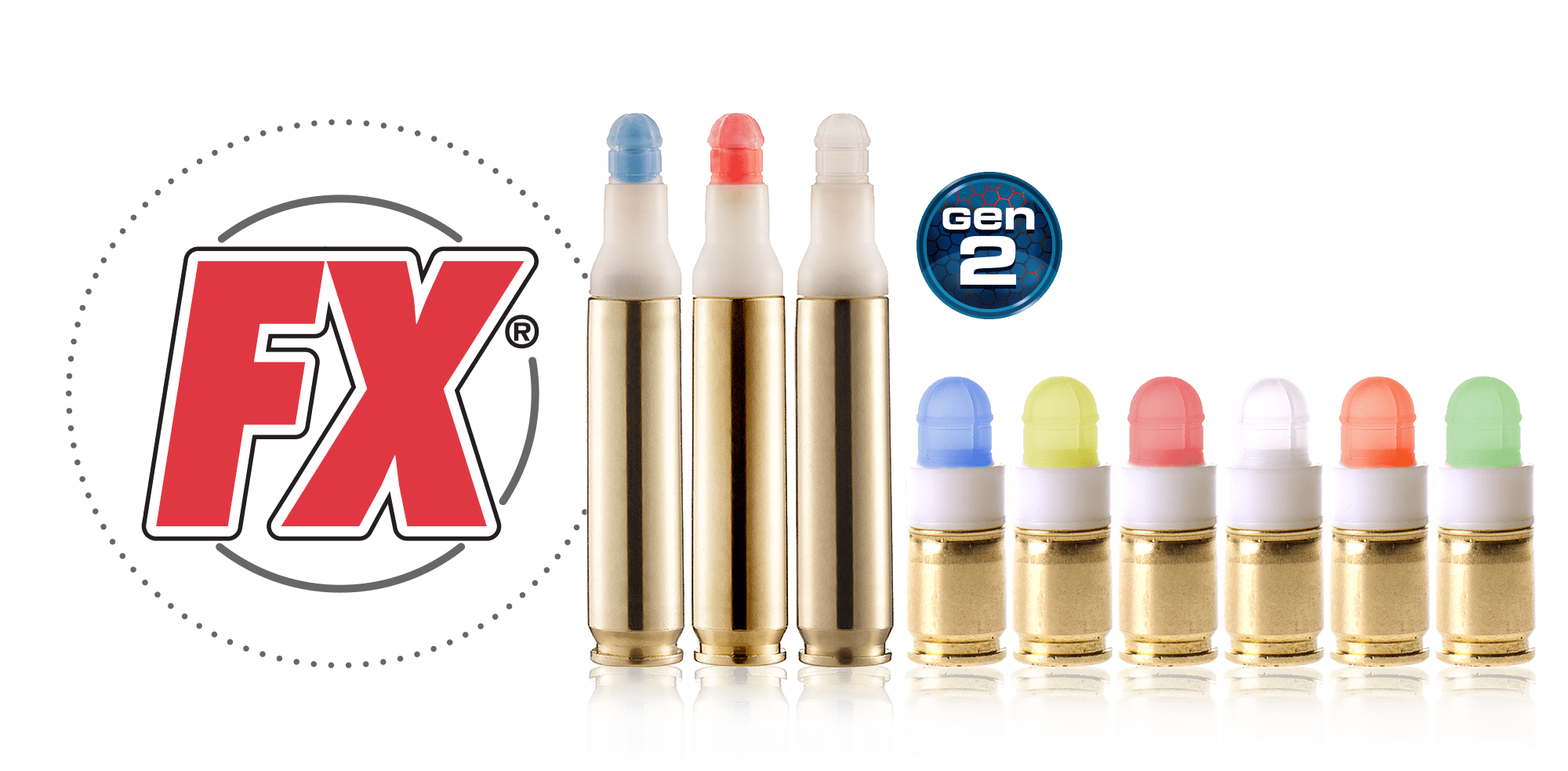 The FX® Training System is the most encompassing and realistic close-range training system in the world.
The trusted Simunition® brand has been meeting the need for force-on-force and man-to-man training for more than 20 years. Our mission is to provide the most realistic training systems possible so that officers, military forces and approved range members around the world can engage in experience building and ultimately lifesaving exercises. The FX® system is comprised of training cartridges, weapon conversion kits and personal protective equipment.  All three essential components are supported by a comprehensive Simunition® Scenario Instructor and Safety Certification Training Course.
FX® Marking Cartridges
The FX® marking cartridges, which come in six colors, are at the core of the FX® Training System known as "the world's most realistic close-range combat training system". The patented, reduced-energy, non-lethal cartridges leave a detergent-based, water-soluble color-marking compound. The visible impacts allow accurate assessment of simulated lethality. The cartridges are available in 9mm and 5.56mm. They feature tactical accuracy up to 25 feet (7.6 meters) for the 9mm, while the 5.56mm is tactically accurate with ball cartridges to 100 feet (30 meters). No special ballistic facilities are required.
For more details view and download the FX® Marking Cartridges brochures below: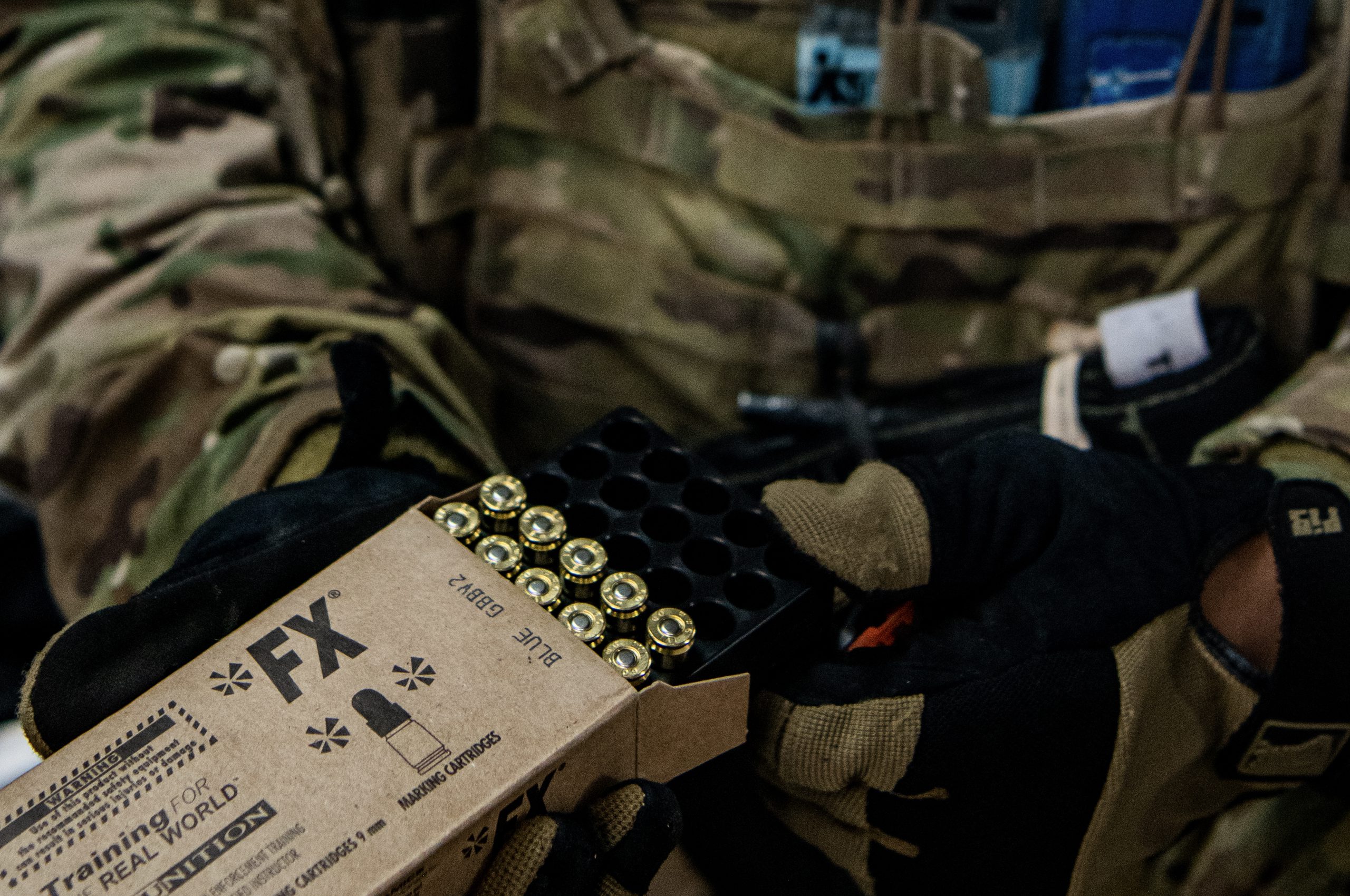 FX® NON-Marking Cartridges
The Simunition® FX® non-marking cartridges are for use in areas or situations where marking is not desirable. The 9mm FX® non-marking has the same characteristics as the FX® marking cartridge except for ballistic match at 16 feet (5m.) versus 25 feet (7.6 m.). Available in 9mm and 5.56mm cartridges. 
For more details view the FX® Non-Marking Cartridge brochure below: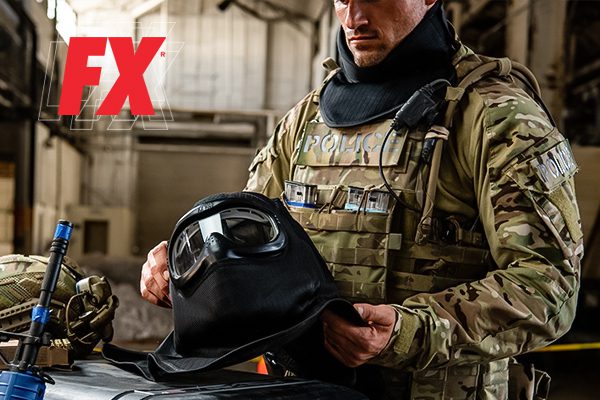 FX® PROTECTIVE EQUIPMENT
The "impact awareness" delivered by its ammunition contributes to the realism of FX®interactive training. To ensure safe and realistic training, yet still allow the impact to be felt, Simunition®developed a full line of protective equipment for both men and women, including a head protector, throat protector and groin protector as well as pants, gloves, a vest and sleeves. These components are for use exclusively with FX®marking cartridges. They are comfortable and lightweight and allow the user to move as freely and naturally as possible. Simunition policy requires users to wear approved Simunition® FX® 9000 Series masks, throat and groin protectors when training with FX® marking cartridges.
For more details view the FX® Protective Equipment brochure below:
Simunition® is the world leader in providing law enforcement communities with the most realistic and non-lethal force-on-force, short-range training system.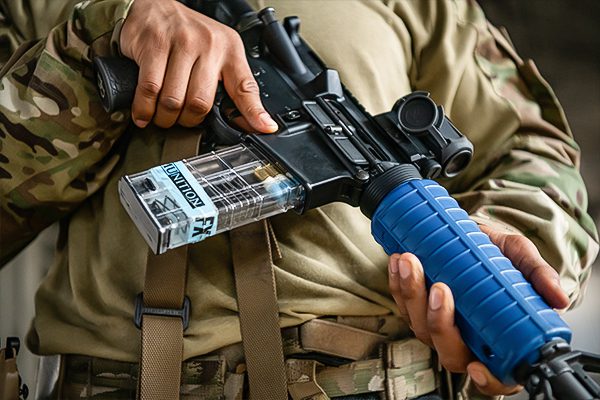 conversion kits
The Simunition® conversion kit, conversion bolt, bolt carrier assembly and safety-ring insert are mandatory and easy to install. They allow FX® marking cartridges to be fired safely from the user's own service weapon. These kits help preclude the inadvertent chambering of live ammunition and ensure the proper operation and cycling of the weapons.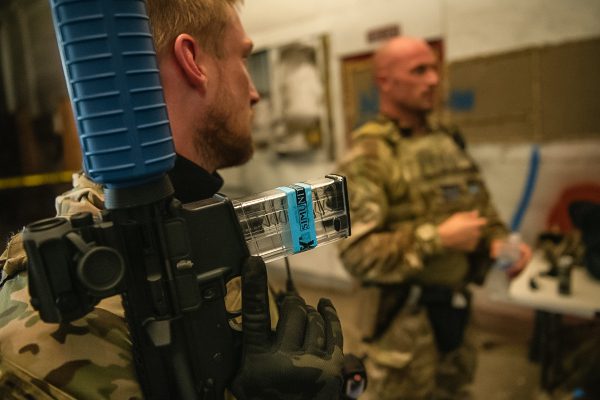 TRAINING COURSES
Realistic training can mean the difference between life and death. The FX® Scenario Instructor and Safety Certification Course is designed to prepare law enforcement, military and tactical teams with quality, reality-based training using FX® marking cartridges, weapon conversion kits and protective equipment. This is the only system that allows officers to use their own service weapons in safe, force-on-force exercises against active role-players. Select Training Courses for availability in your area / country.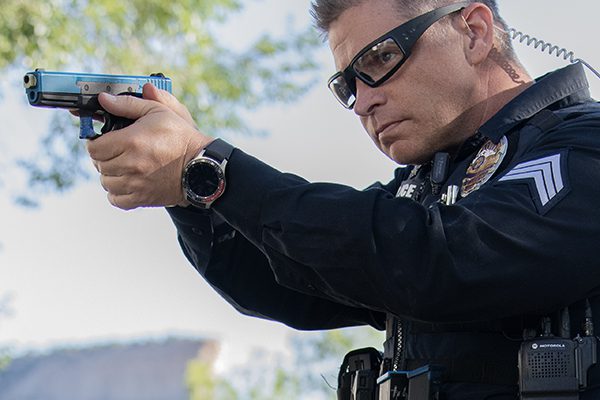 Advantages
Peerless Refinement and history
Most realistic close-range training system
Non-lethal and non-toxic cartridges (ToxFree primer)
Force-on-force and man-to-man live fire scenario training without the associated danger
Functions in Simunition®

 

converted service weapons
Convenient training (any place, any time)
Total training system with cartridges, kits, protective equipment and training courses
Highest Quality, reliable, and easy to use
Applications
Individual and team situations
Counterterrorism
Close-quarter battle (CQB)
Urban fighting (MOUT/FIBUA)
Protection of dignitaries
Trench clearing
Fighting in wooded areas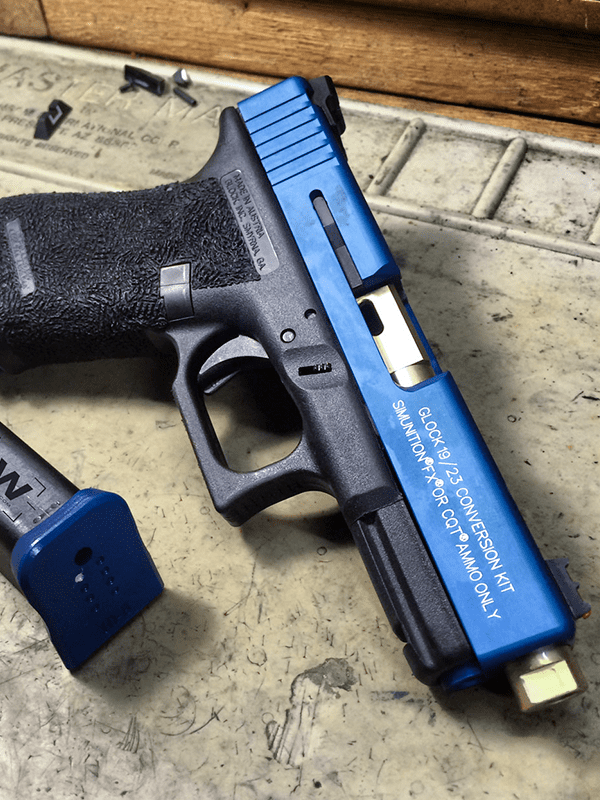 SAFELY AND EASILY TRAIN WITH YOUR OWN WEAPON – MAKING YOUR PRACTICE AS REAL AS IT GETS.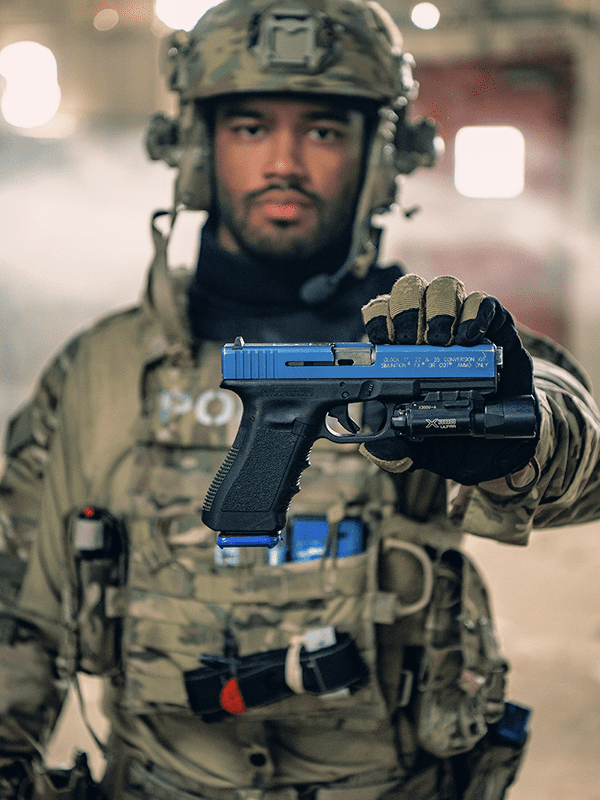 The FX
®
Scenario Instructor and Safety Certification Course COMBINED WITH FX PRODUCTS IS SECOND TO NONE.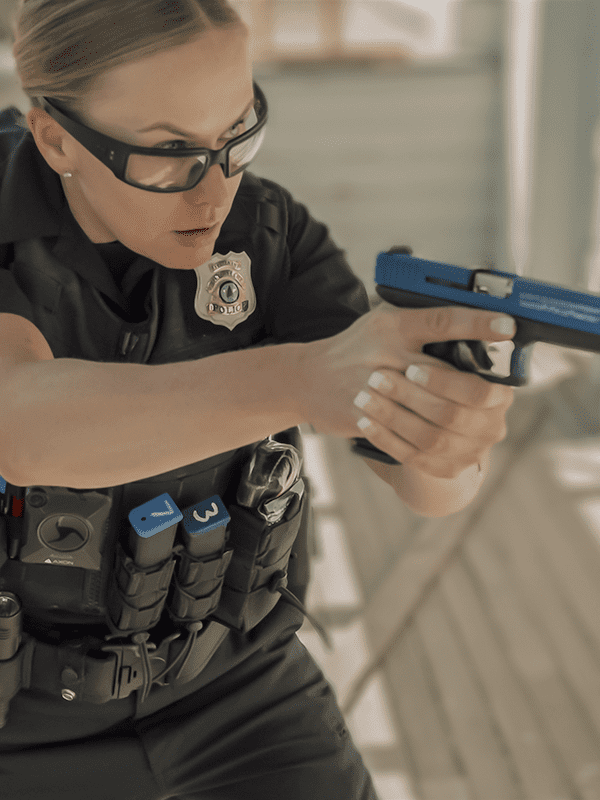 SAFETY IS IN OUR DNA. SIMUNITION® SET THE STANDARD AND CONTINUES TO RAISE THE BAR.
Ready to train with the best?